International Journal of Management and Economics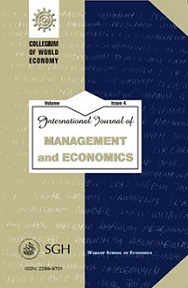 Redakcja
Skład Redakcji
Prof. zw. dr hab. Adam Szyszka - redaktor naczelny
dr Krzysztof Falkowski - wiceredaktor naczelny
dr Elżbieta Wąsowicz-Zaborek - sekretarz redakcji
Redaktorzy tematyczni:
dr hab. Izabela Kowalik prof. SGH - nauki o zarządzaniu
dr hab. Mariusz Próchniak prof. SGH - nauki ekonomiczne
dr Piotr Maszczyk - nauki ekonomiczne
dr Katarzyna Sum - finanse
www: International Journal of Management and Economics

ISSN: 1428-1457

ISSN: (till Vol. 36 ); 2299-9701 (starting with Vol. 37)

E-ISSN: 2543-5361
Kolekcje w tym zbiorze
Najnowsze pozycje
The objective of this exploratory study is to determine whether and (if so) how perceived cultural differences influence relationship quality. To make this determination this study analyzed the cooperation of 278 Polish ...